Conferences
In this section you will find announcements and links to virtual and traditional conferences organized by READCHINA.
Practices of Reading in the People's Republic of China
READCHINA Virtual Lecture Series (Winter 2020/2021)
Research into literary and intellectual life often focuses on analyses of texts and their production. The reader, practices of reading and the meanings and interpretations that (ordinary) readers arrive at very often are missing from the picture. This lecture series aims at filling this gap in research by focusing on practices of reading in the People's Republic of China, addressing, among others, the following questions:
How do individuals, or groups of individuals, adapt to, oppose or appropriate official politics by creating their own, private politics of reading?
In how far is (or was) reading an individual or a group activity, a private or public undertaking?
Where are (or were) practices of reading situated within a triangle made up of the poles of leisure, mandatory and forbidden reading?
How open or clandestine are (or were) practices of reading, are (or were) they legal or illegal? In how far is (or was) reading employed as a means of distinction?
In how far does this relate back to the ways that texts are written, distributed, marketed, and interpreted officially?
When reading becomes part of official policies, what happens to the everyday lives of readers?
How do different media, different materiality of reading materials impact on reading practices and on the interpretation thereof?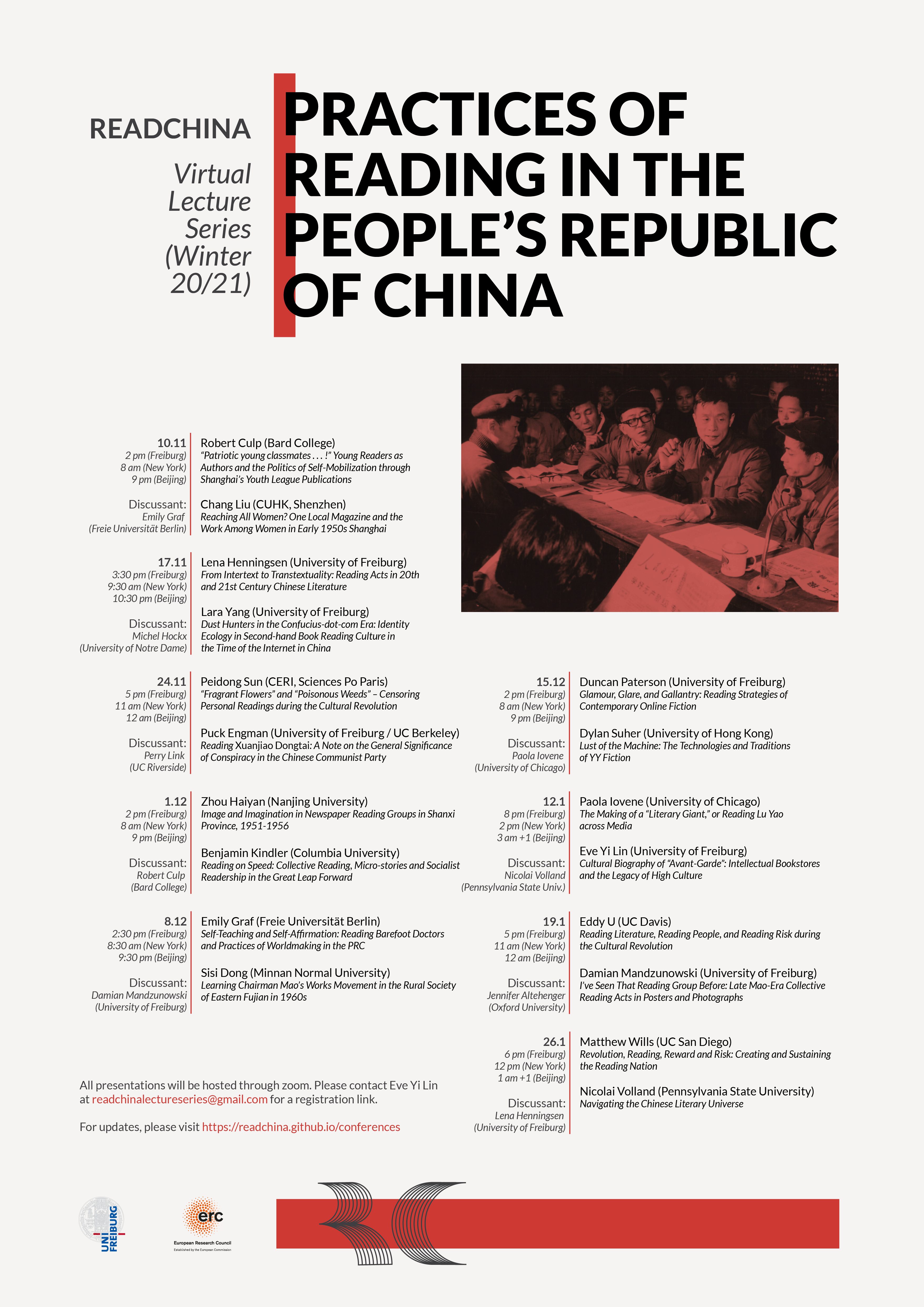 Registration:
All presentations will be hosted through zoom. For a link for the series, please contact us via email to Eve Yi Lin at
readchinalectureseries@gmail.com
or use the
'Contact'
form at the bottom of this page.
Lecture Series Schedule:
Date
Time
Speakers & Presentation Title
Discussant
10.11

2 pm (Freiburg)
8 am (New York)
9 pm (Beijing)
Robert Culp (Bard College): "Patriotic young classmates . . . !" Young Readers as Authors and the Politics of Self-Mobilization through Shanghai's Youth League Publications

Chang Liu (CUHK, Shenzhen): Reaching All Women? One Local Magazine and the Work Among Women in Early 1950s Shanghai
Emily Graf
(Freie Universität Berlin)
17.11

3:30 pm (Freiburg)
9:30 am (New York)
10:30 pm (Beijing)
Lena Henningsen (University of Freiburg): From Intertext to Transtextuality: Reading Acts in 20th and 21st Century Chinese Literature

Lara Yang (University of Freiburg): Dust Hunters in the Confucius-dot-com Era: Identity Ecology in Second-hand Book Reading Culture in the Time of the Internet in China
Michel Hockx
(University of Notre Dame)
24.11

5 pm (Freiburg)
11 am (New York)
12 am (Beijing)
Peidong Sun (CERI, Sciences Po Paris): "Fragrant Flowers" and "Poisonous Weeds" – Censoring Personal Readings during the Cultural Revolution

Puck Engman (University of Freiburg / UC Berkeley): Reading Xuanjiao Dongtai: A Note on the General Significance of Conspiracy in the Chinese Communist Party
Perry Link
(UC Riverside)
1.12

2 pm (Freiburg)
8 am (New York)
9 pm (Beijing)
Zhou Haiyan (Nanjing University): Image and Imagination in Newspaper Reading Groups in Shanxi Province, 1951-1956

Benjamin Kindler (Columbia University): Reading on Speed: Collective Reading, Micro-stories and Socialist Readership in the Great Leap Forward
Robert Culp
(Bard College)
8.12

2:30 pm (Freiburg)
8:30 am (New York)
9:30 pm (Beijing)
Emily Graf (Freie Universität Berlin): Self-Teaching and Self-Affirmation: Reading Barefoot Doctors and Practices of Worldmaking in the PRC

Sisi Dong (Minnan Normal University): Learning Chairman Mao's Works Movement in the Rural Society of Eastern Fujian in 1960s
Damian Mandzunowski
(University of Freiburg)
15.12

2 pm (Freiburg)
8 am (New York)
9 pm (Beijing)
Duncan Paterson (University of Freiburg): Glamour, Glare, and Gallantry: Reading Strategies of Contemporary Online Fiction

Dylan Suher (University of Hong Kong): Lust of the Machine: The Technologies and Traditions of YY Fiction
Paola Iovene
(University of Chicago)
12.1

8 pm (Freiburg)
2 pm (New York)
3 am +1 (Beijing)
Paola Iovene (University of Chicago): The Making of a "Literary Giant," or Reading Lu Yao across Media

Eve Yi Lin (University of Freiburg): Cultural Biography of "Avant-Garde": Reading China's High Culture from the Intellectual Bookstore
Nicolai Volland
(Pennsylvania State University)
19.1

5 pm (Freiburg)
11 am (New York)
12 am (Beijing)
Eddy U (UC Davis): Reading Literature, Reading People, and Reading Risk during the Cultural Revolution

Damian Mandzunowski (University of Freiburg): I've Seen That Reading Group Before: Late Mao-Era Collective Reading Acts in Posters and Photographs
Jennifer Altehenger
(Oxford University)
26.1

6 pm (Freiburg)
12 pm (New York)
1 am +1 (Beijing)
Nicolai Volland (Pennsylvania State University): Navigating the Chinese Literary Universe

Matthew Wills (UC San Diego): Revolution, Reading, Reward and Risk: Creating and Sustaining the Reading Nation
Lena Henningsen
(University of Freiburg)
Address
Belfortstr. 18 Rooms 03 004-05
Freiburg, BW 79098
Germany